How frustrated are you when you can't find what you're looking for? When you're looking for your keys, your glasses, or some scribbled note with a 3 AM revelation, you have only yourself to blame. But when you're looking for a business's hours of operations, some sense of person's work experience, or a certain fact or figure, the people responsible for that information had better have a presence site. In my last post I talked about how important it is to understand the purpose behind building websites, and defined the traits of sites meant to be destination sites. For the majority though, it's too much work to make a site people want to go to regularly. But it's still essential to have a site people will find when they look for you.
Presence Sites
Business Sites are a basic expectation of any potential customer with an internet connection, which is roughly three fourths of the United States. Whether you're a small town plumber or a national chain, people aren't rummaging through drawers for a big yellow book so they can search through three different categories(Food? Restaurant? Pizza?), make a guess as to whether you or your competitors are better, then call and listen to your on-hold music just to find out your hours of operation anymore.
Instead, they're going online. Studies have shown that search is driving offline conversions for local businesses. Out of 2,866 survey respondents in a Nielsen study, 46% of them had searched for a local service business within the past 90 days, and 23% of that 43% bookmarked the site of that vendor. That means next time that person needs a plumber, they're not going through the newest edition of the yellow pages. They're going back to the same site they've had bookmarked for the past who-knows-how-many years.
Giving the basic information of your business is the bare minimum of what a presence site can accomplish for you. Product-oriented businesses can indeed make their presence an online store, adding to the sales made by small local businesses, or giving chain businesses another way to make a sale in store. When I first started college, I was working at JC Penney, a retail business that made a pretty penny from catalog mailings and sails from mail ordering. Their website was a natural evolution of the catalog, one that didn't replace it(or at least, hasn't yet), giving them a third way to sell products to customers who came into the store.
Service businesses can also accomplish more with a presence site. It's not about just having a presence, it's about _distinguishing_ your presence. Exemplar Law, a law firm that sponsors Entrepreneur Meetups I attend in Boston, "is the first corporate law firm in the nation to exclusively adopt a fixed price model" rather than billing by the hour. Their website promotes this fact, the capabilities of their lawyers, the groups they sponsor, and many more aspects of the firm. Their site helps distinguish the way they practice law from the way others practice law.
Restaurant are increasingly adding photo galleries and making their menus available online. I wonder how long it will be until chef profiles become a regular practice? Any website can let people know where they could eat, your website can show them where they should want to eat. And in Naked Conversations
[Affiliate Link], the book that makes the definitive case for encouraging businesses to "join the conversation", we're told the story of Thomas Mahon, a London tailor who leveraged his clothier expertise to write a blog that garnered him 10 times the business he normally received on a trip to New York City… 10 weeks after starting his blog.
Personal Sites
Personal sites face the same decision as business sites do: will they act as a static flyer, a list of attributes occasionally updated? Or will they truly offer a distinguishing presence, a more dynamic demonstration of who a person is and what they have to say? Personal sites aren't only a presence for others to find, they're a presence in which you find yourself. The web is an amazing medium for personal expression, and one that has been enthusiastically, if haphazardly, embraced since Geocities first offered easy-to-build personal web sites.
And while your presence was mostly found by those who already knew it existed — family, friends, students, coworkers, etc. — even then there were efforts to connect people's personal presences to those of others outside their local network. Webrings based on interest or affiliation were a much more aimless method of connection than currently exist on social networking services today. The 'profile' on sites like LinkedIn, MySpace, and Facebook are a more structured version of the personal homepages created in the early days of the web.
Personal sites can be demonstrations of yourself or your skills. Portfolios, expertise blogs, a central aggregator of your projects & postings, anything that is updated and evolves with you. In a world that is continuously trained to believe that an internet search is the quickest route to information, how long until the first thing a person does with the name from your business card or class roster is search for it on Google? Certainly you might have information about yourself listed on your card, or have told your class something about yourself, but would you accept the information someone gives you about themselves as the whole picture? Or would you look for more? If someone is going to search for you on the web, don't you want them to find you?
Personal sites will play more of a role in the public relations strategies of successful businesses in the future. More corporations will find it less desirable to be viewed as inhuman monoliths, and more desirable to both put human faces on their companies while at the same time displaying the talent their company has access to. Giving employees a place to list their accomplishments and competencies at the company offers those interested in the company a better sense of progress. It also serves to illustrate the responsibilities and interactions of employees, a fantastic way for recruiters to give potential talent a preview of what life working at the company would be like.
Information Sites
Information sites are also a kind of presence site. From the vast ocean of Wikipedia to the most detailed academic journals, any information whose importance is not directly affected by the time of its availability(as news is), receives all the benefits of a repository from a website, while maintaining ease of access thanks to search engines and well-planned organization schemas.
The three key features of information sites are organization, presentation, and extensibility. Hypertext has revolutionized the potential for interconnection of information. And search has made finding a starting-point for information easier than any analog solution.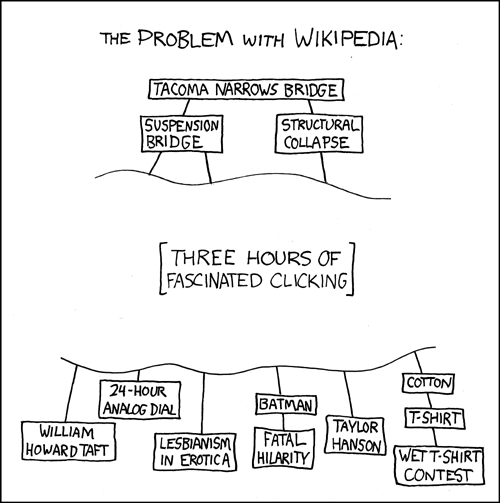 Source: XKCD
But both search and interconnection are lacking for alternative presentations of information, such as audio, image, and video. I've brought this up before in a post exploring
what's wrong with podcasts
. Until better methods become available for searching the actual content of rich media, current information sites must rely on creating excellent searchable descriptions of content.
Information sites' extensibility is more often provided by direct contributions than aggregation, though there's great potential for enriching the content of sites like Wikipedia by finding relevant additions. Answers.com has made a start on this, but its techniques are just a glimpse at what could be possible. Smart methods for filling in the gaps of broad information could be both a threat and advantage to specialized information sites. One of the best examples of specialized information sites are those providing health and medication information. Generally, the more specialized an information site is, the more its extensibility depends on expert contributions than user-generated.
To Be Concluded…
That wraps up the second part of my Web Definitions for Success series, defining the purpose and key elements behind the creation of a site. My apologies for the gap between the first and second part of this series, the final part should be coming much sooner.